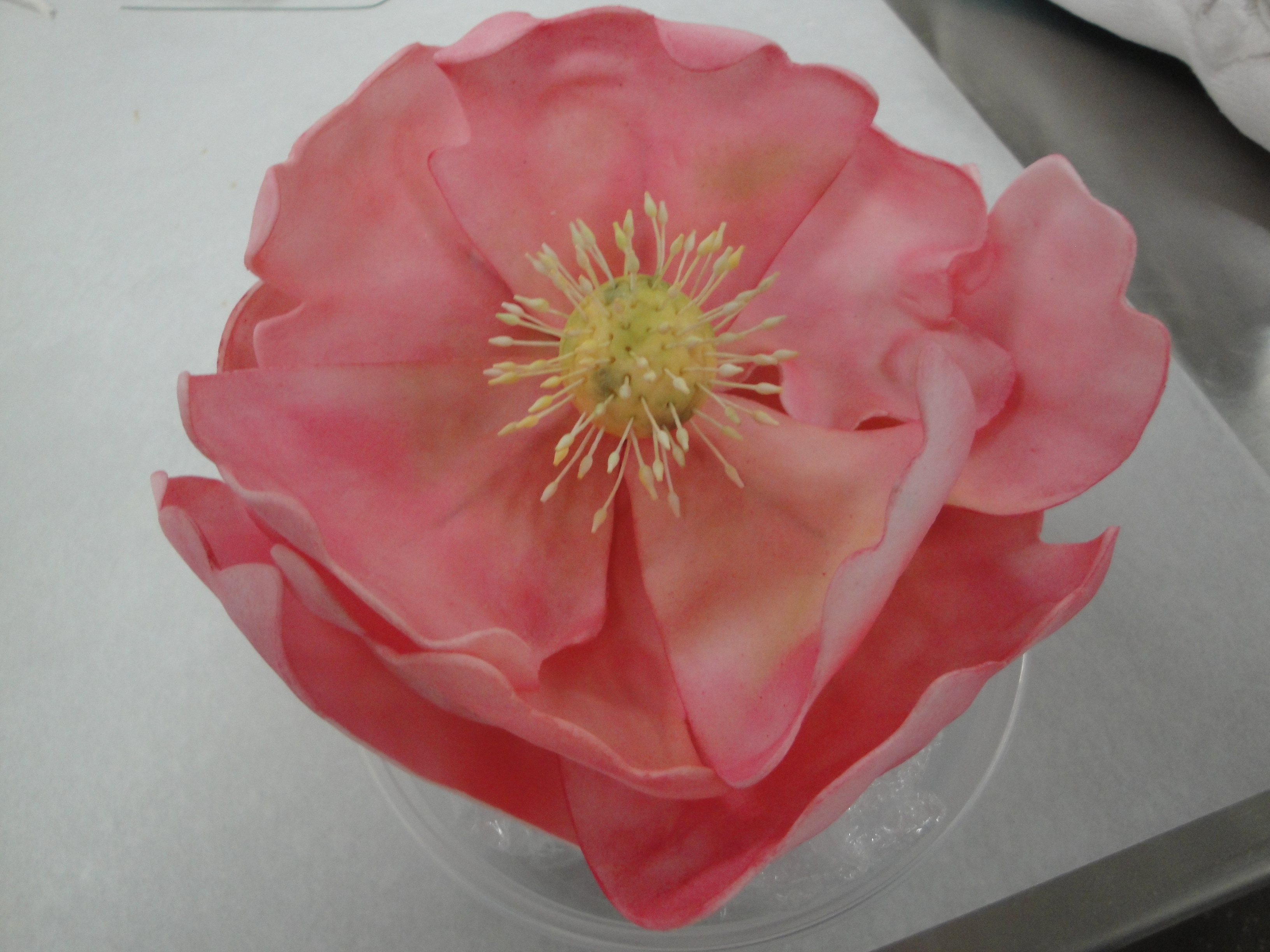 With only 7 lessons until the end of school, it was time to get down to business on our wedding cakes. We started off making generic flowers, everyone was required to make 1 full blown rose and leaf, 1 calla lily, 1 five petal blossom, 1 azalea, and 1 mimosa, regardless of whether or not we were going to use them on the final cake. This was also the time to start thinking about what our final wedding cakes were going to look like so we could make the required flowers in appropriate colors, should we choose to use them on the wedding cake. We were told to make lots of filler flowers and leaves, you always need way more than you imagined, plus they're really helpful for covering up any loose wires or other flaws that you might otherwise see.
Instantly I knew I wanted to make a light green and pink cake. I love the color combo and have always wanted to use it on a cake, so now was the perfect time. I just had to figure out how to put that together into a nice looking cake. While I was figuring out what the design should be, I started on the required flowers, but made sure they were all made in green or pink so that I could use them on the final cake if they looked nice enough.
After searching for some inspiration online, I finally came up with a cake design and got to work. I knew I needed to make a lot of roses and wanted to make a nice, big, pink peony to be the centerpiece. Well, I found out that making peonies is quite a pain staking process. To make one, each petal needs to be individually rolled, cut, thinned, wired, and dried in a form that will give the petals some movement. Then, after the petals are all dry, they each need to be individually petal dusted. Once all of the petals, plus the center are ready, you can assemble the flower. To do this, hold all of the wires together and wrap together using floral tape.
Now that my peony was done, it was time to finish up my roses, leaves, and filler flowers for the top of the cake. I knew that based on my design, most of my last day would be taken up on the cake itself and that I wouldn't have much time to work on flowers.
In between working on the flowers, we obviously had to also bake our cakes! On lesson 97 we baked them and in lesson 98 we cut and filled them. It was very important to make sure our cakes were completely level so that our final cakes would look nice. On lesson 99, I covered mine with fondant, which I was really dreading since the last cake I had to cover had broken, but I guess practice makes perfect because the cakes got easily covered and I went back to work on my flowers.
Before I knew it, we were down to the last class. When I was initially told that I was going to spend 7 lessons making flowers, I wondered how it was possible that the time was going to pass, but turns out, making flowers takes much longer than you would have ever thought. Now I know why all of the wedding cakes made with tons of gumpaste flowers cost so much money!