And just like that, the last course of school began, cake decorating. We started the course with a full lesson on marzipan. Marzipan is a paste that is made from almonds and sugar that is usually then formed into various shapes, including fruits, vegetables and flowers. A typical American recipe for marzipan consists of almond paste, confectioners sugar, light corn syrup and fondant. To make it, combine the almond paste with half of the sugar until the sugar is absorbed. Then add the remaining sugar while continuing to mix. Next add the corn syrup and fondant a little at a time. When a handful of marzipan can knead together without too much effort, it is ready. If it's still too dry, continue adding the corn syrup and fondant until the right consistency is achieved.
Once we had finished making the marzipan, we divided it up and colored each piece so that we could make various fruits and vegetables.
Here's a little tutorial on the fruits and vegetables that I made, but really any shapes can be achieved by marzipan.
To make the peach and apricot:
Take a bit of orange marzipan, or for the peach peach colored marzipan, and form into a round ball. Using a spoon, indent one side of the ball, or you can also use a cone tool to do this. Take a little piece of green fondant and form a small leaf (you can make gentle markings on the leaf with a toothpick). Place the leaf at the top of the ball and adhere with a little bit of water. Take a clove and insert into the top of the peach to act as the stem, making sure to grab a bit of the leaf as well so it looks as though the leaf is growing out of the hole.
To make the banana:
Take a bit of yellow marzipan and form into a log. Roll the log on a flat surface, applying pressure of each of the 4 sides so that the banana becomes square-ish. Pinch one end a bit to form the stem. Apply some brown gel color to a toothpick and gently rub along the lines of the banana to give it a more natural look. Insert a clove at the bottom of the banana to finish it off.
To make the carrot:
Take a bit of orange marzipan and form it into a cone. Score the carrot with a toothpick and apply some brown gel color gently to it.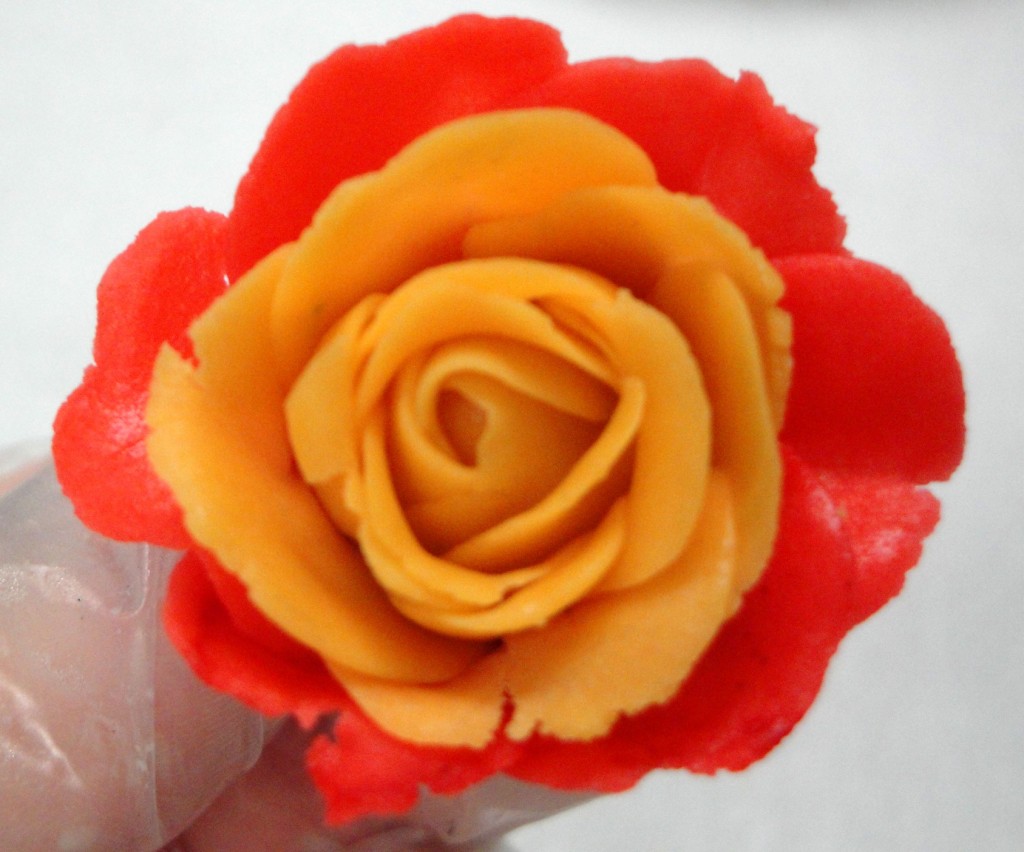 After the fruits and vegetables, we also got to play around a bit with making roses. Roses made out of marzipan are done similarly to any other substance, like gumpaste, chocolate, or even bread!