In case you're wondering, a miroir is a cake made of a genoise mousseline cake, syrup, bavarian cream, and nappage. It is a beautiful, delicate cake perfect for any girly event. They are made in entreme rings (essentially cake pans with no bottoms), which create the gorgeously smooth and shiny sides of the cake. To make a miroir, start with 2 discs of genoise mousseline. Place one inside of an entremet ring that has been lined with cardboard. Moisten the layer of cake with syrup. Fill the entreme ring ½ way with bavarian cream. Then place the second layer of cake in the ring and moisten with the syrup. Fill with bavaraian until ¼ of an inch from the top. Chill to set. Reheat your nappage, chill it to room temperature and pour a thin layer over the miroir. Allow to set and unmold.
In the photo above, you can see what the inside of a miroir looks like. Lots of bavarian cream on the outside and bit between the two layers of cake. This one was a raspberry miroir, which is what gave the bavarian such a pretty pink color.
A charlotte is a very similar cake, however, the cake is around the outside of the cream, rather than in between the cream.  It is a molded dessert in which a filling, usually Bavarian cream or mousse, is poured into a ring lined with sponge fingers or slides of layered genoise. You can make the sponge fingers any color you like, which can help to make this traditional dessert more contemporary.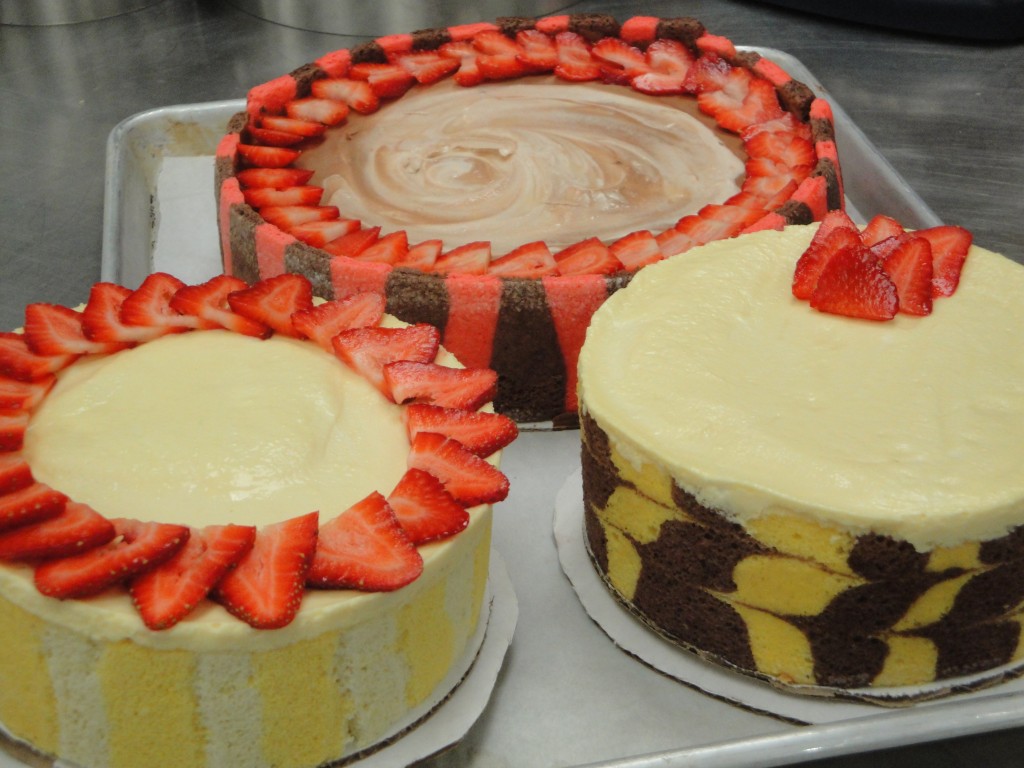 These two types of cakes are stunning! While there are many steps involved in making them, they're all pretty simple, so the cake is fairly easy to make as long as you can follow a recipe. I loved making them and can't wait to make one again, but first I'll have to buy myself an entreme ring!