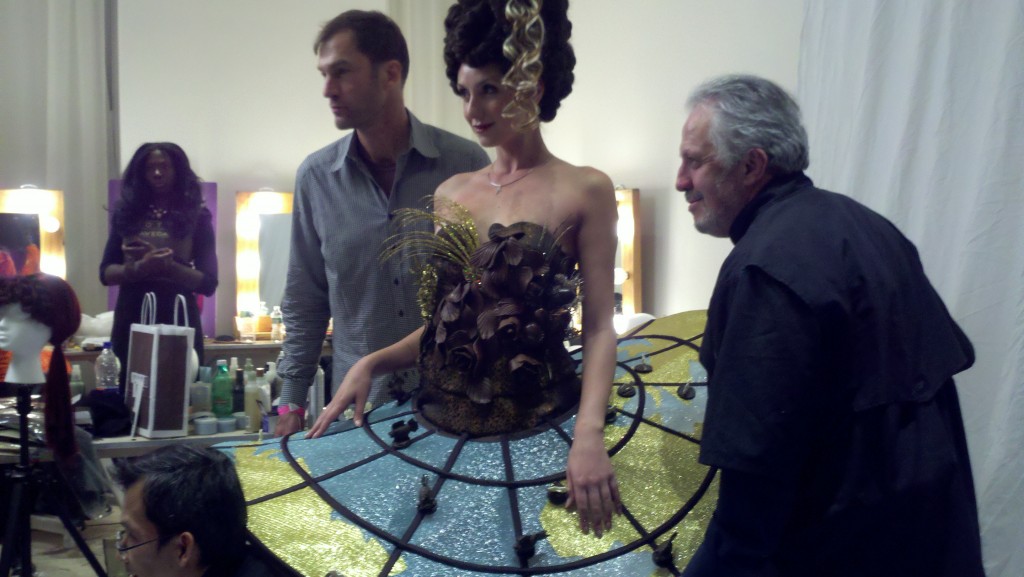 This past week I had the privilege of volunteering at the Chocolate Fashion Event which kicked off the 13th annual New York City Chocolate Show.
The event was fantastic! When we arrived at the event space we were immediately shuttled upstairs where we entered a room with a long white runway which ran the length of the room. As we waiting to get our restaurant assignments, we were able to go backstage and watch as the models were all fitted for their chocolate gowns.
For the event, I was assigned to work with the team from the Gramercy Tavern. I had a great time assembling bite-sized cakes, piping buttercream and dropping small chocolate pieces covered in luster dust on top in 45 degree angles. Then the runway show began and I was able to wiggle myself right up near the front. The dresses coming down were awesome. Each fashion designer was paired up with a pastry chef and some of the final dresses really embraced the chocolate fashion theme.
After the fashion show ended, I was relieved of my duties and was able to go see the preview of the show which would begin the next day. At that point, they also took all of the dresses and put them onto mannequins so the rest of the public could see them throughout the show.
All in all, it was a great night and I would definitely do it again! If you can swing a ticket next year, definitely go!