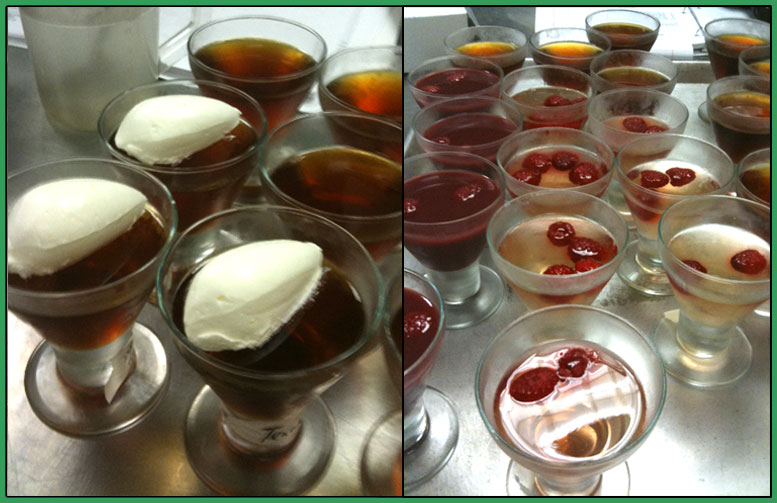 I've always found the thought of gelatin disgusting. The idea of putting pig skin into desserts to set them totally grosses me out, but as I worked with it this past week I was able to quickly overcome my fears and realize its genius.
Gelatin comes in 2 formats: granulated and leaf and each requires a chef to use them in different ways. To use granulated gelatin, you soak it in a liquid that is called for in the recipe and add them both together. To use leaf gelatin you soak it in cold water until limp, about 15 minutes, and wring it out to extract any excess water.
We started using gelatin to make panna cotta — one of my all time favorite desserts. What was great about the recipes we used was that they called for WAY too much gelatin. Now I know, you must be wondering why would this be great? But it allowed me the chance to see what happens when there is too much gelatin. Our panna cotta's were very hard and had a terrible taste. Through the week we kept making new batches which lowered the gelatin content and eventually after reducing it by about 1/2 we were able to achieve a good tasting panna cotta.
Next we made gelees (pictured above). I've never heard of them before, but my group was assigned champagne and we wound with a delicious champagne and raspberry jello. This would be a great dessert for a bridal shower! Or even at a wedding.
We ended class with marshmallows. My group made some delicious vanilla bean marshmallows. Though I've never been a big fan of marshmallows, these ones made me a believer!
All in all, this week really taught me to think past what I think will taste good and just go with it!