Back in December I went to the Grapefruit Gala at the French Culinary Institute and got to meet Jansen Chan who was the chef for the event. Immediately, I fell in love. His warm personality and his delicious food got me straight away. Ever since then, I've been meaning to go to the his midtown restaurant, Oceana, and see what he's got to offer. This past week, I finally got the chance to go with my friend Ms. Cherryspoon (find her review here). We came in with HUGE expectations and were completely fulfilled when we left that night.
Although our savory courses were really just a precursor to the dessert we came there for, they were spectacular and I just have to show you some pictures of them. We started off with the snapper ceviche which was marinated with blood orange, Sicilian pistachios, ancho chili and pickled beets. It was the perfect combination of spicy and sweet.
Then it was onto the entree, Taro wrapped Dorade, which came with baby bok choy, long beans, peanuts and coconut cilantro curry. The curry totally made this dish. It was great.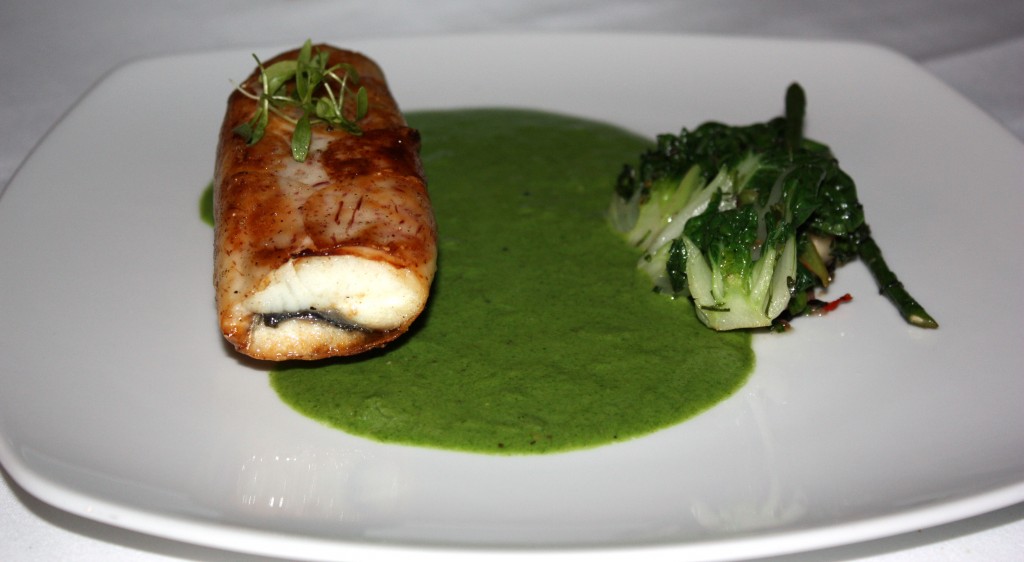 Next up was dessert! Oceana had 6 desserts on the menu and so we chose 4 of them between us. Before ordering dessert the assistant general manager came over to talk to us and asked if we were culinary students — guess all of our photo taking gave us away! We admitted that we were and told him we came because we had seen Jansen at an event. He told us he would let him know, but we never thought it would amount to much. Well, when our desserts came, we got the 2 extras! How great was that!
Our 6 desserts came and we were all blown away.
First up was the Strawberry Tarragon Fizz with creme fraiche sorbet and meringue. I just learned about the great combination of strawberries and tarragon in class and was super excited to see it in action in a real dessert. The meringue was great to use as a spoon to get up all the juice and sorbet together!
Next was the "Carrot Cake" Cheesecake with candied walnuts and coconut lime sorbet. I was pleasantly surprised by this one. It was quite a heavy dessert, especially compared to the ethereal quality of the strawberry tarragon fizz, but hey, it's a cheesecake. It's supposed to be on the heavy side!
Then we got to the Frosted Pound Cake Souffle with frozen strawberry lemonade and yogurt sorbet. Of all the desserts, this one was probably my least favorite taste-wise but the presentation was gorgeous.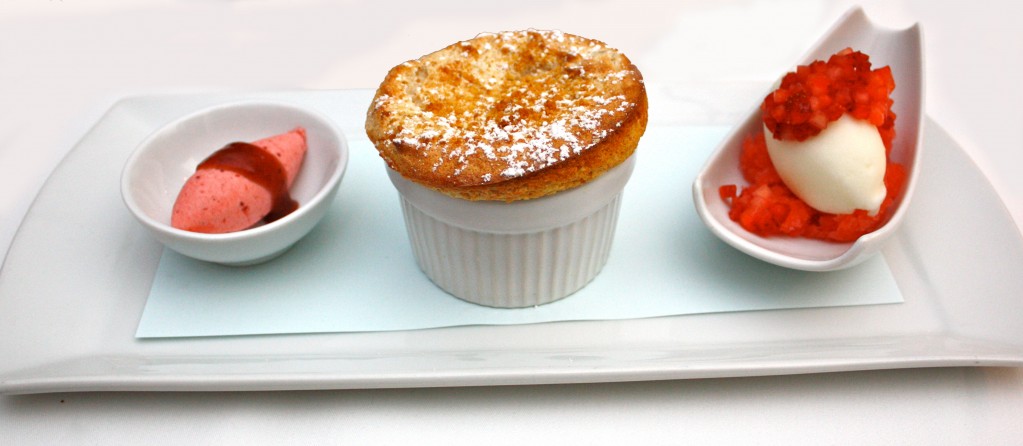 Next up was the Poached Rhubarb Tart with almond sable and earl grey tea ice cream. Earl grey tea ice cream…need I say more?
Then was the Milk Chocolate – Cashew Sundae with angel food cake crouton and bourbon sabayon. I had just made sabayon in class so it was great seeing another version of it made with bourbon rather than Marsala wine. It was still sweet, but much more tolerable then our version. Paired with the brownie it was great.
And lastly was the Chocolate Custard Brownie with roasted cinnamon cream and espresso granite.
Above all, the presentation of all of the desserts inspired me more than anything. Each one was gorgeously displayed and made you want to eat it no matter what it was made of. It's also great getting to see everything that I'm learning in class out in the real world.
Then at the end of the meal, Jansen himself came out of the kitchen and talked to us for a little bit about what inspires him when making desserts, the importance of seasonality (also a large topic in my class), and what he likes to eat when going out.
It was an evening that I went into with very high expectations and it did not disappoint! If you are in the NY area and are looking for some great seafood and dessert, I highly recommend paying Oceana a visit.