This past week, I had the joy and pleasure of being able to travel to Paris for 4 days! What ensued was a truly gastronomic experience and I can happily say that I achieved my goal of stopping for a pastry every couple of hours.
Since we arrived late in the day, the first stop was dinner. Normally, I only post desserts, but the meal we had at Laduree was so incredible, I just have to show you my appetizer and main course! Laduree actually has many locations across Paris, but we went to the one which is located at 75 avenue des Champs-Elysées. The tea house was founded in 1862 and has quite a history which you can read about here.
We started with a celery and black truffle souffle. I know, I know, you're probably thinking celery souffle?? But yes! The flavor combination was phenomenal! The souffle was incredibly creamy and light at the same time and although you could definitely taste a second flavor in the souffle, you would not have known it was celery if you weren't told. The black truffles were so strong that you could smell the souffle coming before you saw it. The perfect bite had a bit of the crust, some of the moist inside and a dot of truffle. The only word you can use to describe it is perfection.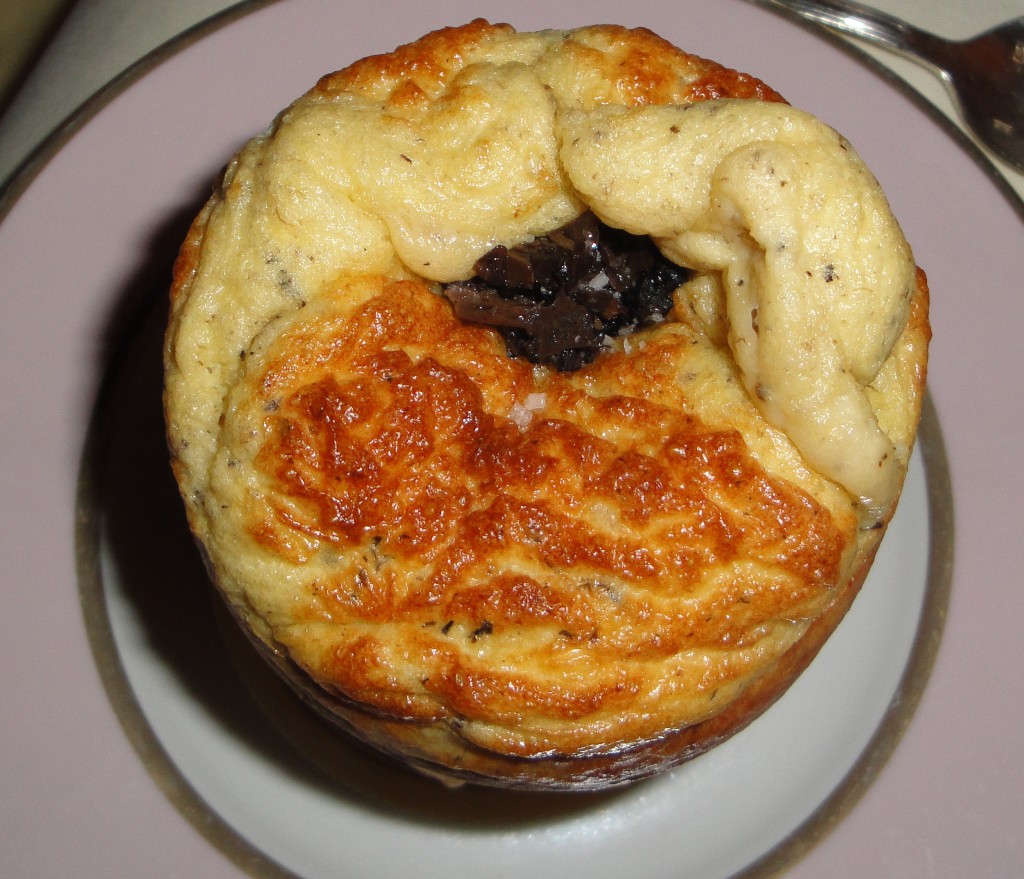 After that, we continued onto our main course which was a Sole filet with slightly salted butter and a balsamic, cherry, hot pepper and cinnamon sauce. This too was delicious! The fish was perfectly cooked and flaked apart with just a fork. The sauce had great depth of flavor and the cherries in it really added a dimension all their own to the dish. Then the red strands on top of the fish added in a spiciness, so between the spiciness of the hot pepper and the sweetness of the cherries you wound up with a really well balanced flavor profile.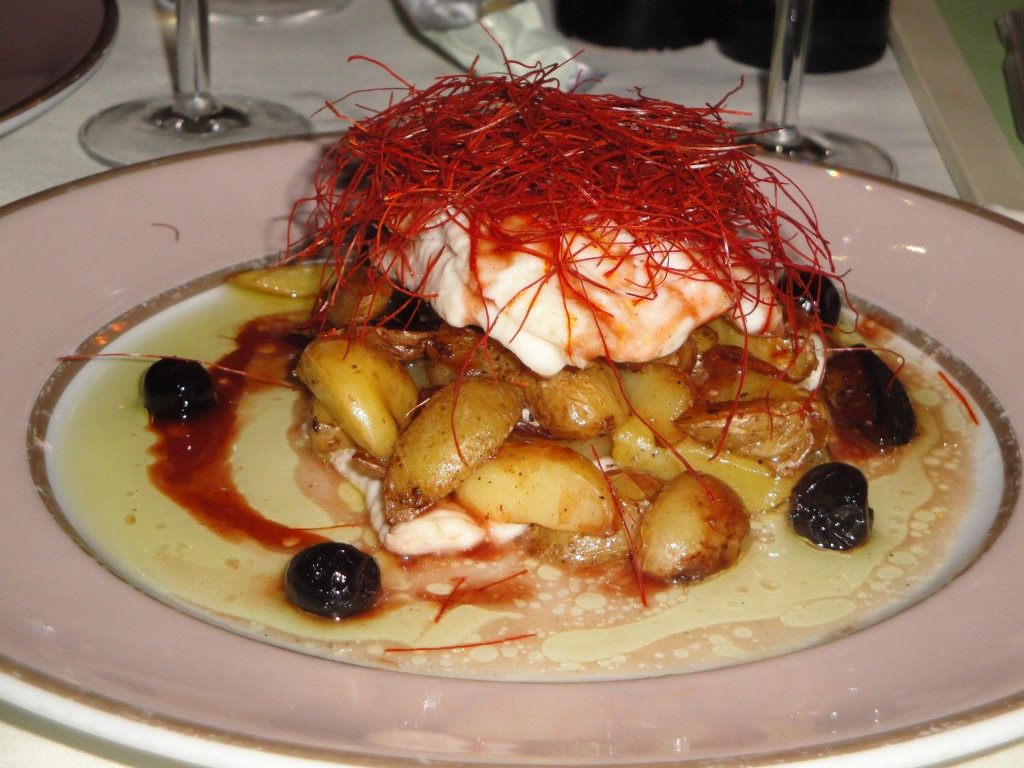 For dessert, we had an Elysee, which was a cocoa "succes" biscuit, crispy prailine, pure origin chocolate from Madagascar, crispy thin leaves, smooth chocolate cream, chocolate zabaglione mousse, and chocolate and cocoa biscuit soaked in cocoa syrup. In case you couldn't tell from the description, this was a really chocolaty dessert which even this chocolate lover found rich, but so delicious!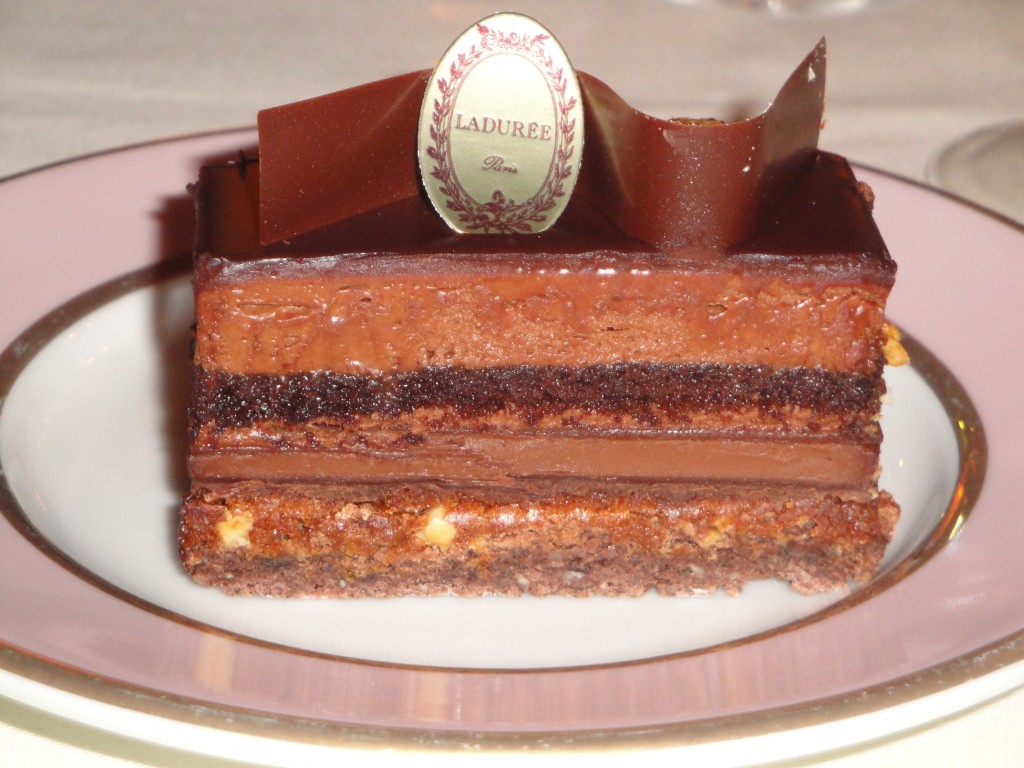 Lastly, to end the meal, we tried 2 macaroons, raspberry and hazelnut praline. In the States, I've always stayed away from these desserts because they often look either dry or mushy, but being as I was in Paris I figured I had to give them a shot. Boy was I glad I did! They were so light and airy I wanted to buy a dozen on my way out!
Such a fabulous meal to kick the trip off with. This trip came at the perfect time since I start Pastry school on Monday! Look out for the rest of my Paris trip desserts coming this week!