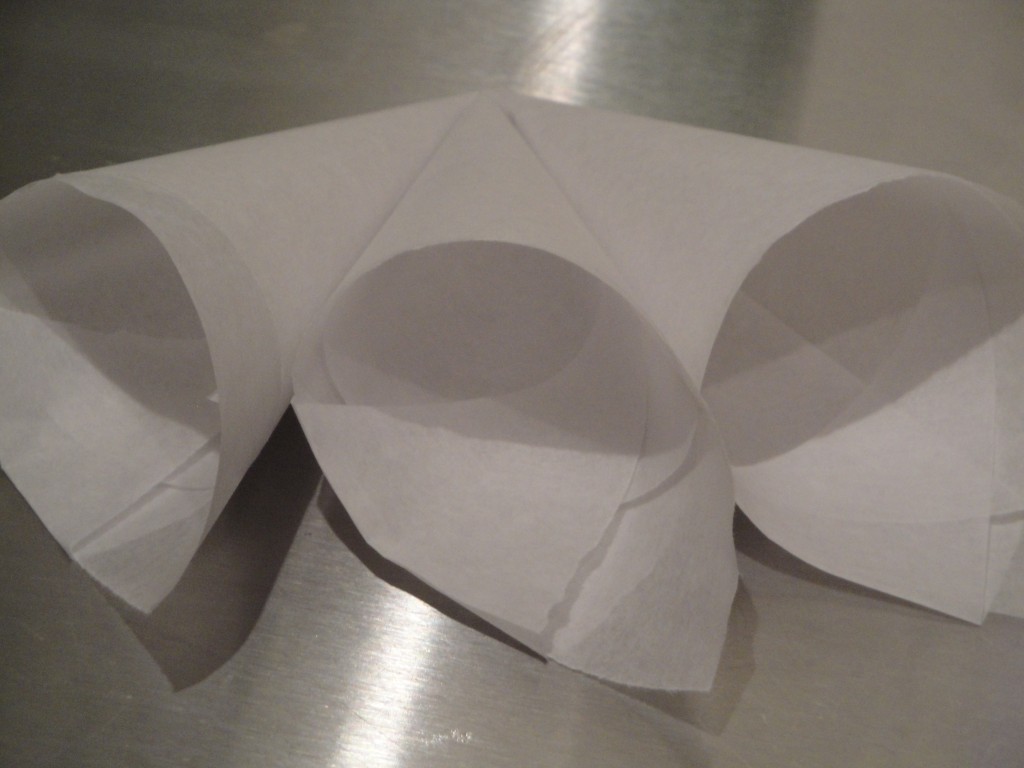 I know this picture doesn't look like much, but it signifies the start of pastry school! Those objects are actually parchment paper that I rolled into cones, called cornets, which are parchment paper pastry bags to be filled with chocolate, icing, or caramel and will be used to pipe very thinly onto various pastries.
Pastry school started out kind of slowly. All 12 of us were given our locker assignments and books as soon as we got to class. We then went into this tiny locker room armed with all of our tools, our scales, our books and uniforms to change into our uniforms which consist of a chef jacket, chef pants, an apron, 2 side towels and a commi hat. Once in uniform we were allowed to go into the kitchens where we got our knives! After listening to 2 hours of procedures we finally got going and our chef instructor began talking about the 5 most important elements in desserts and flavors. Do know what the optimal number of flavors are in a dessert? Do you know how many textures a good dessert has? Well, it turns out that 3 is a magic number in pastry. Most good desserts have 3 unique flavors and 3 unique textures. Any less and the dessert seems 1 note. Any more and it is too overwhelming.
The second class we did a lot of measuring to get used to using our scales and then got to make our first dessert! Well, not so much a dessert as a filler, but at least now we were cooking! We made creme fraiche, the french equivalent to our sour cream. All you do to make it is add a bit of buttermilk to cream and let the mixture sit out over night. The next day the mixture will be thickened at which point it can go into the fridge and be used in whatever capacity you like! We then got to do a dairy tasting in which we learned that 36% milk fat heavy cream will whip up the best and 83% milk far butter works the best for pastries.
The class finished by us learning how to make the cornets you see above. You cut a piece of parchment paper into a right triangle, use some origami skills, and poof you have a cornet! After making about 10 it became such second nature that I was able to make them at home while watching TV.
Today is our third class, so look out for many more posts coming from pastry school!