Happy Mothers Day everyone! Today I made a sour cherry pie and since I've never made a 2-crust pie before, this was quite an undertaking.
Last year, I took a pastry class at the Institute of Culinary Education (ICE) in NYC and this was the first time I was able to put what I learned to good use. I made flaky pie dough (or pate brisee) last night from a recipe I learned there which was by Nick Malgeri. It consisted of flour, salt, baking powder, cold unsalted butter and some cold water. The key to this crust turning out flaky is making sure you can still see some swirls of butter in the dough. If you use too much water and lose these swirls, the dough will become gummy.
I refrigerated the dough overnight and this morning created the filling and assembled the pie. I remember from the class I took at ICE that you have to be very careful when rolling out this particular dough because it is not too forgiving and can quickly lose it's flakiness. You cannot regather the dough into a ball and re-roll, instead, if you need to re-roll, you must pile it up in small strips and roll those out.
The recipe for the filling came from the Sour Cherry pie recipe in the Good Housekeeping Illustrated Book of Desserts. I modified it a bit because I didn't want to use as much corn starch as the recipe recommended, but otherwise kept it the same. The recipe called for a little bit of almond extract which I think gave the pie just enough of a different flavor to make it special.
Here's a pic of the filling:
I wanted to make cut-outs in the top crust, but wanted to make sure it was a random design that didn't rely on me perfectly centering the crust when I placed it on top. I used Atecco flower & leaf cookie cutters for the cut-outs.
I was a little nervous to get the top crust onto the pie, but it went on perfectly very easily.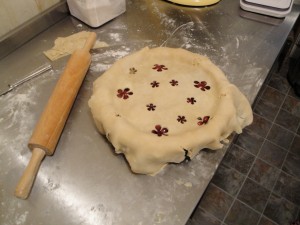 After putting the top crust on, I trimmed the edges of the crust and crimped the edges. I couldn't resist taking the cutout I had made and putting them on top of the crust. They were secured in place with some egg wash and then I lightly brushed the entire crust with the egg wash and sprinkled it with some sparkling sugar.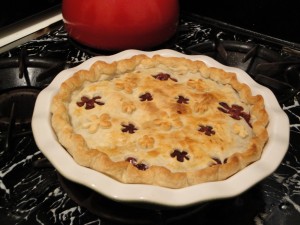 All in all, it came out great! It tasted absolutely delicious and everyone seemed to enjoy it!